Archive for Januar 1, 2015
 Bekanntlich von der KAS finanziert, wobei die Demonstranten vor einem Jahr, bis zu 25 € pro Tag erhielten, als Studenten Förderung der Bildung. Die
Kiewer Banden
mit A. Yatsenyuk,  sind schon einmalig dreist in der Welt und US Langzeit finanziert. Der
Tschechische Präsident  
Milos Zeman
,  ist sehr verwundert, warum die EU, Steinmeier und co. über diese Fakten schweigen, ebenso die gekauften Kriegs Schreier der Grünen vor allem.
Besetzte Stadtverwaltung in Kiew mit dem umstrittenen Nationalhelden Stepan Bandera, Januar 2014. Bild: U. Heyden aus
Die Grundlage der Aussenpolitik kann nur die Geschichte sein, was das 1 & 1 ist. Dazu ist die EU, das Auswärtige Amte, Westerwelle und Steinmeier und Konsorten einfach zu korrupt und dumm.
Video mit vielen Beispielen und SS Symbolen der privaten Söldner Armeen der Oligarchen: Das neue EU Modell, von Deutschen Steuergeldern u.a. durch die KAS wieder einmal finanziert und mit den "Schwarzen Kassen" Mafiöser Politiker auch der SPD und Grünen Banden.
Die wollen nur Geld, was bereits die EU Aussenministerin nun ausgeschlagen hat, soweit nicht tief greifende Reformen durchgesetzt werden: Die Deutschen sind dann so korrupt mit Steinmeier denen auch noch Geld zugeben, wie man es bei anderen Verbrechern, wie im Kosovo, Albanien, Bulgarien, Rumänien und Montenegro schon gemacht hat.
By and large Ukrainian politicians don't care about the Germany's vision of prospects for peaceful solution to Ukraine's crisis. The only thing they want from the European Union is money. Some Germans realize that. «Kiev chooses a military solution… the United States is to deliver arms while Europe is to prevent the Ukraine's bankruptcy», (3) one of Spiegel's readers writes in his post. But German media prefers to keep mum about it. To avoid stories about Ukrainian politicians try to wheedle out credits and assume an offended air when refused. German media outlets avoid stories about the suffering of Ukrainians who live near the battle front. They avoid stories about the abrupt deterioration of living conditions in Ukraine. But one cannot hide an awl in a sack. As a result, Germans start to lose trust in their national media, especially when it comes to reporting on Ukraine. http://www.strategic-culture.org/news/2014/12/24/why-germans-lose-trust-in-media.htmlDie US Idioten haben die volle Panik und umso Hirnloser agieren ihre gekauften EU Vasallen, vor allem Steinmeier und etliche Ministerpräsidenten mit US Vergangenheit, sowieso Minister.
Besetzte Stadtverwaltung in Kiew mit dem umstrittenen Nationalhelden Stepan Bandera, Januar 2014. Bild: U. Heyden
Besetzte Stadtverwaltung in Kiew mit dem umstrittenen Nationalhelden Stepan Bandera, Januar 2014. Bild: U. Heyden
Die Verbrecher Banden, vom Westen finanziert, inklusive der Demonstranten auf dem Maidan, direkt durch die Pyschopaten des Verbrechens erneut: die Deutsche KAS und heute ist Schweigen, wenn Demonstranten den Präsidenten sagen. Unter der Wiktor Janukowytsch war es besser

Grossen Schweigen bei der Westlichen Doppel Moral, welche Demonstrationen mit Mord Faschisten finanzierten und Partner der Grünen wie so oft ebenso waren.
Neo-Nazi torchlight procession in Kiev in honor of Stepan Bandera birthday (Jan 1, 2015)
..so looks New Year celebration in Kyjev…I don´t believe my eyes…After WW II Bandera and his thugs have killed people in my country (Slovakia)and he was sentenced in the absence to death penalty…and these people who are celebrating killer and warcriminal are called by western politicians "defenders of european values"…
Read more at http://www.liveleak.com/view?i=a8a_1420142231#3TK3Vm9KRkEeGmkj.99
Oliver Stone: Ukrainians are suffering from US 'ideological crusade' against Russia
Published time: January 01, 2015 13:28
Edited time: January 01, 2015 14:13
In response to those who took exception with his claims that the Ukrainian crisis involved "outside agitators," Oliver Stone took to social media to advance his argument, saying that Ukrainians are the victims of a US strategy akin to Cold War 2.0.
This week, Stone stirred a political firestorm with his views on what he believed sparked the Ukrainian crisis, following a private interview with Viktor Yanukovich, the former Ukrainian president who was ousted in the February 2014 coup.
"It seems clear that the so-called 'shooters' who killed 14 policemen, wounded some 85 and killed 45 protesting civilians, were outside, third-party agitators," Stone said, following his four-hour conversation with Yanukovich in Moscow. "Many witnesses, including Yanukovich and police officials, believe these foreign elements were introduced by pro-Western factions – with CIA fingerprints on it."
According to the American-born filmmaker and writer, Ukraine is just the latest country in a long list to fall prey to "America's soft power technique called 'Regime Change 101.'"
Stone's comments reverberated like an earthquake on both sides of the Ukrainian divide, prompting him to elaborate on his original statement. Stone's follow-up post began with him explaining that he has no particular sympathy for Yanukovich.
"For those of you angry with my analysis of Ukraine yesterday, please try to understand the bigger picture I'm offering," he wrote on his Facebook page. "I have no brief for Viktor Yanukovich, he may well be the most corrupt president Ukraine's ever had. Ukraine has a dramatic history of corruption. That is not my point."
However, he went on to argue that there is "ample evidence of pro-Western, third-party interference" in Ukraine, specifically mentioning Victoria Nuland and John McCain, two high-ranking American officials who appeared on the streets of central Kiev at the height of the Maidan showdown between police and protesters.He also mentioned specific US government organizations, such as USAID, which has been operating in Ukraine since the collapse of the Soviet Union, and the National Endowment for Democracy, which he remarked"apparently organize very well on Facebook and Twitter,"suggesting a possible method of organizing the protesters for an anti-government rally.
READ MORE: 'CIA fingerprints' all over Kiev massacre – Oliver Stone
Stone asked the question why so many Ukrainian policemen were killed and wounded during the occasionally violent rallies, "Yet no one has investigated this in the new government?"
Indeed, there has been much speculation that the so-called Maidan snipers were working in the pay of those who were trying to orchestrate the protests, and it was their aim to shoot members from both sides to trigger deeper social unrest.
To emphasize his point that the US has been playing games in Ukraine for a long time, Stone made a historical reference to 1949, when Defense Secretary James Forrestal, together with the cooperation of the CIA, created a guerrilla force codenamed 'Nightingale' that was comprised of ultra-nationalist Ukrainians.
http://rt.com/news/219211-stone-ukraine-us-policy/
The current leader of the Polish parliament (Sejm) is former Foreign and Defense Minister Radoslaw Sikorski, a former U.S. resident and British citizen. Sikorski is married to the neocon columnist Anne Applebaum, a member of the editorial board of The Washington Post. Sikorski served as a fellow of the neocon American Enterprise Institute (AEI), which provides employment for a number of anti-Russian warhawks, including Fred Kagan, brother-in-law of the foul-mouthed Assistant Secretary of State for European and Eurasian Affairs Victoria Nuland. Lynne Cheney, wife of former Vice President Dick Cheney, and former U.S. ambassador to the United Nations John Bolton also serve as AEI fellows. Sikorski is also a close friend of neocon media mogul Rupert Murdoch. Sikorski has been at the forefront of calling for increased European Union sanctions against Russia and the further expansion of NATO to the east.
So gehen die Faschisten mit einem eigenen Ukrainischen Offizier um, wo kein Aufschrei auch wegen den Maidan und Odessa Morden, der EU kommt. Nur Schweigen.
Donald Tusk wird im Februar 2015 neue EU Sanktionen gegen Russland verkünden, obwohl er keine Zustimmung aller EU Länder hat. Schlimmer wie übelsten Faschismus und Kommunismus, hat sich die EU entwickelt. Kriminelle und korrupte Gestalten haben das Sagen, wobei der damalige Polnische Aussenminister sogar AEI Direktor bei den Verbrecher Wolfowitz und dem Super Verbrecher Richard Perle war, der den 11.9.2001 organisierte mit seinen Saudi Terroristen Financiers: Prinz Bandar und Prinz Turku.
Polens Außenminister will kein Vasall der USA sein
update 2/2019
Korrupte Verblödung hat Kultur im Auswärtigem Amte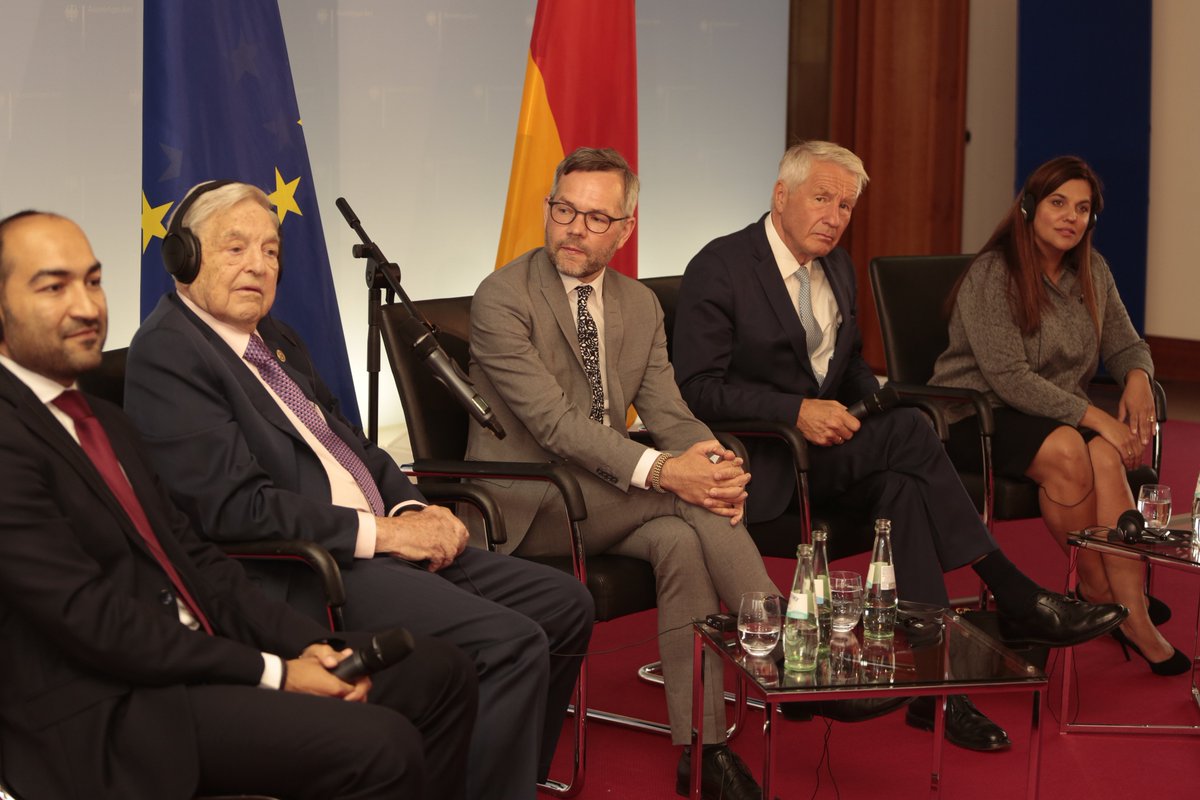 Georg Soros – Michael Roth, Schwuchtel auf Reise Trip obwohl ohne jede Kompetenz im SPD Dumm Spektakel mit System
Michael Roth, hat Bundestags Protokolle fälschen lassen, was einmalig ist, als es um die NATO Terroristen Gruppe und Partnerschaft in der Ukraine erneut ging. Das schon Steinmeier zu Terroristen, den NAZI Totesschwadronen in der Ukraine beste Beziehungen hatte, wie Helge Schmid ist ja gut dokumentiert.
Inhaltlich ging es bei Fragen des Abgeordneten Andrej Hunko (Linke) um die "Mirotworez"-Liste der Ukraine. Das ist jene Liste der "Staatsfeinde" der Ukraine, auf der Hunko selbst, aber auch tausende weiterer Namen, aufgeführt sind. Zwei davon wurden bereits ermordet (Die Bundesregierung und die 5.400 Staatsfeinde der Ukraine).
Mit peinlichen Lügner und Betrügern wie Heiko Maas, Michael Roth, kommt man nicht weiter, weil diese Gestalten Hirnlos und inkompetend sind.
(23.6.2014) Es ist interessant, wie über eine mitgeschnittene Unterhaltung zweier polnischer Regierungsmitglieder berichtet wird. Außenminister Radosław Sikorski sagte zum ehemaligen Finanzminister Jacek Rostowski, dass das Verhältnis zu den USA "Bullsheit" sei, weil Polen zum Verliere werde, wenn es die Beziehungen zu anderen Staaten belastet, um den USA einen Gefallen zu tun.
Indonesien, eines der ganz grossen Länder der Erde, wurde ebenso von der Westlichen Werte Gemeinschaft ruiniert und korrumpiert. Heute gilt Sharia Law, wo vor Jahrzehnten noch Deutsche Ingenieure wichtige Projekte organisierten.
No New Year's fun: Indonesian city bans celebrations under Sharia law
Published time: December 31, 2014 11:18
Thousands of fireworks and party favors have been snatched up in the Indonesian city of Banda Aceh after local authorities began enforcing a fatwa banning New Year's Eve celebrations in the country's sharia-ruled province.
The fatwa was issued by Aceh provinces clerical Ulema Consultative Assembly, which said that wishing someone 'Merry Christmas' or celebrating the New Year were forbidden under Sharia or Islamic law.
READ MORE: 100 lashes (or 100 months in jail) for gay sex in Indonesian province
"All events related to New Year celebrations are contrary to Islamic culture," Asia News cites Banda Aceh's Deputy Mayor Illiza Saaduddin as saying.
She continued that the celebration of New Year's "is not a religious event, but just a profane and worldly event where people only enjoy the transfer of a new day with hurrahs. Cafés and nightspots are told to stop their operation."
The city's Buddhist, Christian and Hindus minorities "will have to show respect" to the Muslim majority, Illiza added.
Although the ban is technically not legally-binding, the city's Sharia police and personnel from the public order agency have been mobilized to ensure the edict is observed.
Since Monday, the religious police have been conducting raids on street vendors and shops, seizing thousands of firecrackers, noise-makers, and cardboard trumpets.
They will also conduct raids on hotels and cafes, which have been warned not to mark the event.
"There should be no activity whatsoever to celebrate the turn of the year," AFP cites Reza Kamilin, a senior Sharia police official in the city, as saying.
"We will dissolve any mass gatherings. If anyone is seen with firecrackers or trumpets, we will confiscate them," he continued.
Other administrations in Aceh province have also reportedly banned New Year's celebrations.
Aceh was granted the right to establish a version of Islamic Sharia law in 2001 to bring an end to nearly three decades of bloody insurrection in the province. In 2005, a peace agreement was signed that granted Aceh greater autonomy on condition that it remained within Indonesia, which comprises a sprawling archipelago of islands. The province's non-Muslim minorities, who make up roughly 1 percent of the population, are also subject to Sharia.
In September, lawmakers in the province passed a harsh anti-gay law making anal sex between men punishable by up to 100 lashes, 100 months in jail or a fine of 1,000 grams of gold. Women who are found guilty of "rubbing" their bodies against each other for "stimulation" can also be subjected to public flogging.
Adultery, gambling and consuming alcohol are also punishable by canning. Women can also be flogged for skipping Friday prayers or wearing tight clothing. Earlier this year, Amnesty International said that at least 156 people had been caned in Aceh since 2010 for violating Sharia law.
Although Aceh is the only province in Indonesia in which Islamic law in implemented, an increasingly extremist form of Islam is gaining a foothold in pockets of West Java and beyond.