Archive for Januar 10, 2015
Der Spiegel bringt gerade wieder eine neue Lügen Geschichte, wo eine Anarchie beim Spiegel sichtbar ist und Bodo Hombach, der Balkan Mafiosi im Ethnik Rat sitzt, wo wegen Dokumenten Fälschunge "Olaf" ermittelte und Alles im Balkan und dann auch die WAZ verkauft werden musste.* Gibt es sowas, wo der Spiegel seine eigenen Lügen und Geschichten finanziert und Bertelsmann, mit Elmar Brock ist sowieso bei jedem Müll dabei.
Im Krieg liegt das Geschäft, wo Deutschland immer mitmacht: Alternativ der einzige richtige Weg:
MH17: "Für den Abschuss sind allein die russischen Streitkräfte unter Wladimir Putin verantwortlich"
Das Recherchebüro CORRECT!V hat einen Bericht veröffentlicht und glaubt, nun die Täter und Verantwortlichen benennen zu können
Die Westliche Wertegemeinschaft braucht neue Geld Quellen, nachdem Milliarden auch in Afghanistan, oder dem Kosovo und dem Irak verschwanden für Nichts. Man erinnert sich an den Kosovo, Nigeria, Afghanistan wo Deutschland nur mit den Kriminellsten Mördern und Verbrechern einen Staat aufbauen wollte, was natürlich schief gehen musste. Deutsche Unterstützung der Scientolgy Kirche wieder einmal mit Arseni Jazenjuk.
Der Deutsch finanzierte Klitschko, Parade Pferd der als kriminelles Enterprise auftrendenen KAS in der Ukraine, hat die Verantwortung, wenn Öffentliche Gebäuder in Kiew besetzt werden von den Nationalistischen Mörder Banden, wie der NAZI Finanzierung, was zum System gehört der USA und Deutschland im Ausland. Ehtnische Säuberungen, werden erneut in der Ukrain verlangt durch Jazenjuk, Deutschland ist dabei.
Besetzte Stadtverwaltung in Kiew mit dem umstrittenen Nationalhelden Stepan Bandera, Januar 2014. Bild: U. Heyden
Der Bürgermeister von Kiew: Vitali Klitschko, Deutsch finanziert macht Nichts gegen diese kriminellen Umtriebe in Kiew. Original Steinmeier finanziert, wie sogar "Die Zeit" schrieb. Und die Grünen Pädophilen Bande, ist ja seit 15 Jahren mit Mördern, Faschisten immer dabei, vom Kosovo, über den Massenmord in Libyen bis Syrien. Für Georg Soros, ging nun viele schief in der Ukraine, weil man die Stimme des Volkes nicht einmal kannte und die Partner nur das in ihre Berichte schrieben, was gewünscht wird, als OK Reporting bekannt.

Jetzt geht es weiter mit Faschisten, Mördern, Dumm Schwätzern in der Ukraine und das nun seit über 20 Jahren, wo sich jeder Profil Neurothiker der KAS ungebremst einer Deutschen Justiz und Steinmeier austoben können. Aufklärung über die Maidan und Odessa Morde ist unerwünscht. Bei Elmar Brock, kann sowieso Nichts verwundern, der wie Friedbert Pflüger, zur Abteilung der Hof Schranzen gehört, die nie einen einzigen Gedanken selbst formulieren können. Front Männer, für Krieg, Betrug und dummes Gesapper.EU finanziert Ukraine-Krieg mit weiteren 1,8 Milliarden EuroNur damit kann das Pleite-Land die beschlossene Verdoppelung der Militärausgaben schulternFreitag, 9. Januar 2015ARD: Verständnis für den Extremisten JazenjukEin Skandal erster Ordnung. Jatzenjuk macht im Staats-TV ARD Russland zum Aggressor des 2. Weltkrieges. Die BRD stand schon vor dem Umsturz fest an der Seite der Putschisten.Erinnern Sie sich noch an den Faschismusleugner Claus Kleber der im Juli 2014 verkündete es gäbe keine Faschisten in der Ukraine, "…jedenfalls nicht in führenden Positionen".
Halten wir nur kurz fest: Zu diesem Zeitpunkt war ein Andrej Parubij als Chef des "Nationalen Sicherheitsrates" der Ukraine Boss aller Repressionskräfte der Ukraine. Und er war der deutschen Führung bereits lange persönlich und als Faschist bekannt. Im Mai 2014, beim Massaker von Odessa hatte er vor Ort seine Hände im Spiel. Parlamentspräsident war Turtschinow. An der Spitze der "Regierung" stand Jazenjuk.RückblendeAm 21. Februar 2014, als Brok mit Steinmeier in Kiew war, und Steinmeier gerade eben den gewählten Präsidenten Janukowitsch gemeinsam mit dem polnischen Außenminister Sikorski über den Tisch zog, haben sich all die "Diplomaten" der NATO-Staaten mit Parubij in der deutschen Botschaft getroffen. Als alle wussten dass Parubij ein Aktivist der faschistischen "sozial-nationalen Partei" des Tjagnibok   angehört und er der Terroristenführer auf dem Maidan ist. Steinmeier ließ sich mit Tjagnibok auch noch gerne fotografieren und mit dem Agenten-Lohnempfänger Klitschko.Es war deshalb auch der NATO-Strippenzieher Brok, der behauptete, für die Sniper-Morde auf dem Maidan sei Janukowitsch verantwortlich. Es wird zu untersuchen sein: Log Brok a) obwohl oder b) weil er wusste, dass der Faschist Parubij der Kommandant auf dem Maidan war. Brok hat öffentlich zugegeben zu wissen woher die Sniper kamen.
Über den Kanzleramts-/Geheimdienstverantwortlichen a. D. und NSA-Türöffner Steinmeier müssen wir nicht viel reden. Fragen Sie sich: Wieso wurde er als Wahlverlierer nicht abserviert? Wer glaubt, der Mann ist ein Außenminister zum Nutzen der Bundesrepublik, glaubt auch an den Weihnachtsmann.
Polen organisierte die Putschisten
Mit Steinmeier in Kiew dabei damals auch der polnische Außenminister Sikorski. Sikorski war es der die Propaganda-Lüge verbreitete, Putin wollte schon 2008 die Ukraine zwischen Polen und Russland aufteilen. Das flog schnell auf und der grenzdebile Lügner musste ein Rolle rückwärts vollziehen. Dieser Sikorski ist verheiratet mit der einflussreichen Amerikanerin Anne Applebaum ("Einzige Hoffnung der Ukraine: Nationalismus"). Dieser Sikorski also, der – so die NATO-Propaganda – angeblich mit Steinmeier einen Plan zur friedlichen Lösung des vom Westen initiierten Konfliktes hatte, tat in Wahrheit Folgendes: Er persönlich (!) hatte schon im September 2013, also fünf Monate zuvor 86 Kämpfer des Rechten Sektor zur Ausbildung nach Polen geholt. Die Aktion folgte demselben Muster der Geheimhaltung wie die mit den USA gemeinsam organisierte Ausbildung der syrischen Staatsfeinde in Berlin. Sogar eine Legende wurde gestrickt. Die Männer wurden als Studenten ausgegeben. Viele waren über 40 Jahre alt! Doch statt zur Uni gingen sie ins Polizei-Ausbildungszentrum Legionowo. Dort erhielten sie einen Monat lang u. a. Ausbildung im Kampftaktik, Schutz gegen Tränengas, Barrikadenbau und besonders interessant-  Scharfschützenausbildung. Das nenne ich Arbeitsteilung. Steinmeier und Sikorski halten am 21. Februar 2014 Janukowitsch ruhig. Die anderen besprechen zeitgleich mit dem Faschisten und Maidan-Kommandierenden Parubij in der deutschen Botschaft die Taktik der Machtübernahme. Ausgerechnet Blätter vom Niveau der BLÖD wollen dem Michel nun trotzdem die CIA-Lüge weismachen, es hätte keinen faschistischen Putsch in Kiew gegen die Regierung gegeben. Militär und Janukowitsch seien einfach so geflüchtet. 
Mörder-Karussell
Im Februar 2014 waren Jazenjuk, Turtschinow, Tjagnibok und Witali ("Die Erde ist jetzt 2015 Jahre alt") Klitschko die führenden Auftragnehmer und "Verhandlungspartner". Soviel also zu den EU- und damit NATO-Leuten um den Putsch herum. Soviel auch zu jüngeren Geschichte von Jatzenjuk. Die Mörder sind unter sich. Klitschko wurde Bürgermeister von Maidan-Kiew. Der Killer Parubij, der verhinderte, dass seine Sniper auf dem Maidan ausgeschaltet wurden, ist jetzt Vize-Präsident des Parlamentes. Turtschinow wurde vom Parlamentspräsidenten zum Chef des "Sicherheitsrates", dem ehemaligen Posten Parubijs.Preisgekrönte Faschismus-Leugner
Über die vielen Erscheinungen eines lupenreinen Faschismus in der Ausprägung des 21. Jahrhunderts in der Ukraine gibt es zehntausende Beweise. Ethnische Säuberung, Vertreibung, Hunderttausende Flüchtlinge, Bombardierung der eigenen Bevölkerung, Gesinnungsschnüffelei, Folter, extremistische Indoktrination der Kinder, Internierung, Ermordung Andersdenkender….bis hin zur Einrichtung eines – ganz im Ernst –  Orwell'schen Propagandaministeriums zur Überwachung und Zensur der Medien.Die deutschen Massenmedien haben ungeachtet all der Beweise sich bei der Leugnung des Faschismus und der Desinformation der Öffentlichkeit besonders hervorgetan. Die Faschismusleugnerin Golineh Atai wurde ausdrücklich dafür auch noch "Journalistin des Jahres", von einer Jury in der u. a. der ARD-Hetzer Rolf-Dieter Krause ("Putin ist der Feind") sitzt.Kein Wunder also, dass am 7. 1. 2014 das Putschisten-Oberhaupt Jazenjuk, der seine eigenen Landsleute russischer Abstammung Untermenschen nennt, Gelegenheit bekommt, seine Verschwörungstheorien und Verunglimpfung der 27 Millionen Russen die ihr Leben für die Befreiung Deutschlands und der Ukraine vom Faschismus gaben, in den "tagesthemen" eben jener ARD unwidersprochen verbreiten darf. (Zitat: "Bundespräsident Gauck hat Verständnis für die Nöte des Ukrainers.") So viel Bullshit wie von Nulands Scharfmacher hat das deutsche Publikum noch nie von einem "Staatsgast" anhören müssen: Russland solle sein Geld nicht für Hackerangriffe auf die Webseite der Bundeskanzlerin verschwenden. Oder: er wolle die ukrainische Armee aufrüsten damit die "russischen Terroristen" nicht weiterkommen. Geschenkt. Dramatisch jedoch, wie Jazenjuk behauptet, Russland habe die Ukraine und Deutschland überfallen. Er folgt hier der Stimme seines Herrn. Hillary Clinton nämlich behauptet rotzfrech die USA hätten den Faschismus besiegt.Das ist ein politischer Skandal der der Holocaust-Leugnung gleich kommt. Die Sowjetunion hatte weit über 20 Millionen Opfer zu beklagen. Die Mehrzahl – wie im Donbass-Krieg – Zivilisten. 3 Millionen Tote allein in deutscher Kriegsgefangenschaft.  So geht der deutsche "Staatsgast" mit dem Andenken der "Untermenschen" um.Frau Atalay schweigt dazu.Wichtig anzumerken, dass das Interview aufgezeichnet war. Atalay kann sich also nicht auf einen Hörfehler, Überraschungseffekt oder Blackout rausreden.Warum ist die Leugnung des faschistischen Charakters der Machthaber in Kiew so wichtig und wird von den Mainstreammedien so vehement bestritten?
Der russophobe faschistische Charakter des Putsches in Kiew begründet die unbestreitbare Berechtigung des Südostens der Ukraine, sich vom illegalen Kiewer Regime abzuspalten, das zudem über die Krim nur aufgrund einer Laune Chrustschows überhaupt verfügen konnte.Bürgschaft für den MassenmörderFrau Merkel nun bezahlt dem Geschichtsrevisionisten, Kriegshetzer und Faschistenanführer Jatzenjuk 500 Mio. EURO ohne ein Wort der Kritik oder die Einforderung der Einhaltung der Menschenrechte in der Ukraine. Das angesichts von 5.000 Toten und fast einer Million Flüchtlingen….http://hinter-der-fichte.blogspot.de/2015/01/ard-verstandnis-fur-den-extremisten.htmlNazipropaganda in den Tagesthemen?
Zur Ergänzung: Bodo Hombach im Ethnikrat, was wohl ein Witz ist, bei
soviel Balkan Betrügereien, wo die EU Betrugs Organisation OLAF
ermittelte und die WAZ Alles verkaufen musste.
Bei correctiv fällt mir in erster Linie der schreiende Gegensatz
zwischen reichlich vorhandenem Geld – von der Witwe eines
verstorbenen Zeitungsverlegers btw – dass es für eine erstklassige
Multimedia-Agentur reicht und ein Rudel Journalisten während Wochen
durch Osteuropa reisen kann – und der Selbstdarstellung als
bürgernahes, durch Spenden finanziertes Community-Portal.
Also das:
> https://www.correctiv.org/wer-wir-sind/
Bodo Hombach ist Vorsitzender des Ethikrates von CORRECT!V.
Die Arbeit von CORRECT!V wird von einem Ethikrat begleitet: Dieser
Rat wird aus zahlreichen angesehenen Persönlichkeiten des
öffentlichen Lebens, Journalisten, Verlegern und Medienschaffenden
bestehen. Die zukünftigen Mitglieder des Rates arbeiten für nationale
und internationale Institutionen. Sie sind Fachleute und kennen sich
mit den Gepflogenheiten des Gewerbes aus. Sie werden darauf achten,
dass CORRECT!V den hohen ethischen Grundsätzen aufklärerischen
Journalismus als wichtigen Beitrag für die demokratische Kultur
genügt. Die Mitglieder des Ethikrates werden wir nach und nach
vorstellen.
Vorsitzender des Ethikrates ist Bodo Hombach. Er war von 2002 bis
2012 Geschäftsführer der in Essen ansässigen WAZ-Gruppe. Als Verleger
kennt er sich aus mit den Herausforderungen in Zeiten des Umbruches
im Mediengewerbe. Seit 2011 ist er Vorstand der Brost-Stiftung und
achtet auf das Erbe von Anneliese Brost.
Bodo Hombach ist Präsident der Bonner Akademie für Forschung und
Lehre praktischer Politik. Die Akademie ist ein An-Institut an der
Universität Bonn und soll den Austausch zwischen Politik, Wirtschaft
und Wissenschaft unterstützen. Er ist als Lehrbeauftragter sowohl an
der Universität Bonn wie an der Fachhochschule Bonn-Rhein-Sieg für
Kommunikationsthemen tätig.
IN Rumänien, Kroatien ebenso Skandal mässig aktiv, die Bau Firma Bechtel, wo dann in 2014 der damalige US Botschafter Christopher Dell im Kosovo, anschliessend Afrika Vertreter für Bechtel wurde. Identisch bei den Deutschen Aufbau Mafiosi: Dirk Niebel ist nun Chef Lobbyist bei der Betrugs und Bestechungs Firma: Rheinmetall. In Albanien ein Mega Skandal, ebenso im Kosovo wo es keine Justiz mehr gibt.
Albania-Kosovo Highway Costs Soar To 2 Billion Euros
Cache of official documents detail for first time how lobbying, poor-planning, "uncompetitive tenders", failure to set cost caps and "inflated" prices left Albanian and Kosovan taxpayers with a two billion euro bill for just 137km of road.
Petrit Collaku, Erjona Rusi, Besar Likmeta, Lawrence Marzouk BIRN Pristina, Tirana, London
Albania-Kosovo Highway during construction in 2009 | Photo by : Besar Likmeta
The 'Patriotic Highway' slices its way through one of the poorest and most remote corners of Europe, where many villagers still live on the breadline, struggling to make ends meet.
This four-lane, 137km stretch of asphalt connecting the Albanian and Kosovan capitals has drained in the region of two billion euros from the state coffers of both nations – diverting funds from other much-needed infrastructure projects, such as the building of schools, hospitals and minor roads, many of which remain unpaved.
Following a six-month investigation, BIRN is now publishing previously unreleased documents from Kosovo and Albania that detail the scale of mismanagement and spiralling costs that have so far sparked three investigations into alleged corruption, abuse of office and wrongdoing linked to the contract.
Built on the premise of creating wealth from increased trade and tourism, the final price tags for the road at least doubled in both countries from those initially quoted.
Trade between Albania and Kosovo has seen only a modest increase since the road opened last year, but it has not led to the queues of trucks commonly seen at other Balkan borders. Experts estimate the road is being used at just 10 per cent of its capacity.
On the other hand, construction firm Bechtel-Enka pocketed profits running into hundreds of millions of euros thanks in part, critics argue, to a contract "heavily weighted" in their favour, high pricing and tax rebates.
Fast-track tender
The contract to build the first stage of the highway – connecting Tirana with the Kosovo border – was awarded in 2006 in a fast-track procurement process, which the World Bank and others argued was uncompetitive and unlawful.
US construction giant Bechtel and its Turkish partner, Enka, won the contract to build a 60km mountainous section for 418 million euros.
The US Embassy helped override World Bank and IMF concerns over the handling of the Albanian tender process, arguing the road would boost the economies of both Kosovo and Albania.
In the end, costs escalated with Tirana eventually shelling out 950m euros for the road, according to a leaked email from the then Minister of Finance, Ridvan Bode.
The contract to build the Kosovo section was awarded in April 2010 to the same partnership, following lobbying by the then US ambassador to Kosovo, Christopher Dell.
Dell has since been hired by Bechtel as a country director in Africa, raising questions among observers about the probity of the deal.
A Bechtel spokeswoman Michael Michelle strongly denied any impropriety and insisted Dell had followed US State Department rules as soon as the company approached him with a potential job offer as he prepared to leave Kosovo, including recusing himself from any matters related to the firm.
But a senior diplomat, Andrea Capussela, who had been charged with supervising Kosovo's economy, called for the State Department to review Dell's support for the scheme in light of the former ambassador's new job.
There is no suggestion Dell did not comply with US "revolving door" regulations. While there is a one-year "cooling off" period before former ambassadors can lobby the US government on behalf of a private firm, they are not prevented from taking a job in the private sector with a company they helped secure a contract for.
Costs in Kosovo escalated too after the government failed to heed its own legal advice and set a fixed price for the road. The cost rose from 400 million for 102km of highway to 838 millon euros for 77km.
Bechtel-Enka received more from the Kosovan public purse in 2011, 2012, and 2013 than any other ministry. At the same time, other infrastructure projects, including new schools, were put on hold.
BIRN has obtained key material gathered for the aborted prosecution of Lulzim Basha – the Albanian politician who signed the deal in Tirana – on charges of abuse of office related to the contract.
The documents reveal that Bechtel-Enka's prices were known to be more than double that of local contractors, costing Albanian taxpayers an extra 191 million euros.
According to the prosecution papers, "all the prices submitted by the winning company are many times higher than the Albanian prices". The figures were compiled by two state auditors who produced a 158-page report, until now unpublished, detailing problems with the highway contract.
The findings formed the basis of the prosecution's case against Basha and two of his advisers, Andi Toma and Armand Telti. All denied any wrongdoing and the case was dropped in 2009 on a legal technicality.
Signing of the contract Front row: Mike Adams, president, Bechtel Civil; Fatmir Limaj, Kosovo Minister of Transport and Communications; Sinan Tara, Chairman, Enka. Back row: Christopher Dell, ex-U.S. Ambassador to Kosovo; Hasim Thaci, Kosovo Prime Minister; Metin Husrev Unler, Turkish Ambassador to Kosovo; Andrew Sparkes, British Ambassador to Kosovo.Photo courtesy of Kosovo Ministry of Transport and Communications
'No price limit, no plan'
The prosecution team argues that because the contract was signed off without an agreed cost limit or detailed construction plan, the price spiralled seemingly out of control.
Prosecutors also criticised the appointment of Ecorys, the Dutch consultancy firm hired to pick the winning bid, as "unlawful" because the firm's role was announced before the council of ministers even approved the decision to appoint a consultant.
The fast-track tender process – in which four shortlisted firms were evaluated on their ability to do the job without having to provide a price – was described by prosecution investigators as contrary to national and international law.
Claims that Bechtel-Enka were given the contract despite the absence of an agreed construction plan or cost limits have also been made by Niko Naska, the only Albanian member of a five-man tender evaluation committee, in an exclusive interview with BIRN.
"My first question was: 'Is there a project [plan], did anybody look at this carefully?' But there was no project [plan] at all. How can you build something without a construction plan, especially such a big infrastructure project like that, that goes from 400m to almost one billion euros?
"How could I, an engineer with years of experience who has built power plants and ports, stoop to such a level and accept being a part of that tender?"
Naska told BIRN he was asked to take part in the evaluation with just one day's notice, despite being unable to follow proceedings conducted in English. He quit after one day.
"They [the government] called me the night before telling me that I was chosen by Prime Minister Sali Berisha, who said a lot of good things about me … but I didn't know anything about the tender so how could I be part of it?" he said.
He also said he had not been given access to any tender documents written in Albanian.
In the end, the four remaining members of the evaluation committee selected Bechtel-Enka and negotiations over a target price began.
The then transport minister Basha argued at the time that Bechtel-Enka was selected transparently and the fast-track method was needed as a year's delay would cost 75 million euros – 60 million euros from the economic boost and 15 million euros in increased costs. No evidence was ever presented to justify these sums.
BIRN asked Basha, who is now leader of the opposition Democratic Party and mayor of Tirana, a series of questions related to the highway, but he refused to comment.
A US diplomatic cable, also published by Wikileaks in 2009, detailed the scale of poor logistical and financial planning.
According to the memo by an official at the US Embassy in Tirana, Bechtel had first estimated that seven million metric tonnes of earth would need to be excavated, that grew to 14 million when the contract was awarded in 2006 and stood at 32 million by April 2009 more than a year before the Albanian section of the highway was completed.
The cable noted that despite the cost increase, the road remained "very profitable for Bechtel".
US smoothed way for Bechtel
INVESTIGATION FINDINGS – AT A GLANCE•    Costs doubled from initial quotes costing Kosovan and Albanian taxpayers around two billion euros•    Contracts in both countries were signed without set price limits or construction plans

•    A series of international organisations – including the World Bank and senior EU diplomats – advised Tirana and Pristina against signing the deals

•    Pristina signed despite warnings from its own legal adviser that the deal was "heavily weighted" in Bechtel-Enka's favour and did not adhere to industry standard terms

•    Bechtel-Enka received more Kosovo government funds from 2011 to 2013 than any single ministry

•    The US ambassador who lobbied for Bechtel in Kosovo has since been hired by the firm

•    The only Albanian appointed to assess the highway bids resigned after just one day because he believed the tender process was flawed

•    Three investigations have so far been launched linked to the highway deal with the first, in Albania, dropped on a legal technicality
Bechtel-Enka's proposal also drew sharp criticism from the World Bank and the International Monetary Fund, which eventually refused to back the project or help Tirana fund it.
In a diplomatic cable published by Wikileaks from 2006 entitled "Impediment to Bechtel's bid to build key section of highway", Marcie B. Ries, then US ambassador to Albania, said she would help the government overcome the World Bank's objections as a new highway "would not only help Albania's trade, but Kosovo's as well".
US involvement went beyond support from the embassy. Ries wrote that Basha had told her a former US homeland security secretary, Tom Ridge, was advising Tirana on the deal. Ridge had been brought in on a 40,000 dollar-a-month contract to advise the government on its bid for NATO membership and establish links with Washington DC.
According to the same memo, Orsalia Kalantopoulos, World Bank regional coordinator for South-East Europe, told the government in Tirana that she strongly opposed the four-lane project, that Bechtel's selection was "non-competitive" and that the highway should be downgraded to two lanes to reduce costs.
Fresh claims of wrongdoing linked to the deal emerged two weeks ago in Albania, after Minister of Finance Shkelqim Cani announced a new investigation into the financing of the highway via a 250 million euro bank loan.
Albania was not able to borrow from international financial institutions because both the World Bank and IMF had advised against the highway project. The country was forced to look to commercial banks, allegedly borrowing at above market rates.
This latest investigation is unrelated to the now-dropped prosecution of Basha and his advisers, which focused on the terms of the contract and soaring prices.
Socialist Party MP Erjon Brace, a long-term opponent of the Bechtel-Enka scheme, said his party did not oppose the construction of a new road to Kosovo, but the scheme was poorly planned and has left Albania's economy in tatters.
"There was no tender, no plan at all and no price cap for it. Even the World Bank and IMF were against this kind of procedure, they said that the tender was carried out without the necessary funding being in place," he says.
Brace called for the original case, dismissed on a legal technicality, into the terms of the contract to be reopened so the evidence can be tested in court. Despite regular stories in the Albanian press speculating on the case reopening, the Prosecutor General's office told BIRN it had made no decision on the matter.
Kosovo costs doubled
Hasim Thaci, Kosovo Prime Minister,

Atifete Jahjaga

, President of Kosovo, Christopher Dell, ex-U.S. Ambassador to Kosovo

on the highway Vermice-Merdar

Photo courtesy of http://www.president-ksgov.net
Criticism and concerns over the deal are mirrored in neighbouring Kosovo, where the cost of the highway also more than doubled from the initial price quoted by Bechtel-Enka.
The Kosovo section, already expensive at 400 million euros for 102 km, eventually spiralled to 820 million euros for 77 km, according to an unpublished report compiled by highway supervisors Hill International and released to BIRN under Freedom of Information laws.
Figures from the Ministry of Finance suggest Bechtel-Enka was paid 838 million euro, more than Hill International reports, while the government had to find a further 128 million euros to acquire privately owned land.
Capussela, the Italian diplomat tasked with supervising Kosovo's economy after its 2008 declaration of independence, told BIRN the signing of the contract between Kosovo and Bechtel amounted to a "political crime".
"Picture the number of hospitals and schools and text books and computers and more useful roads that could have been built with that money spent on the highway," he said.
Kosovan construction firms say the prices quoted by the US-Turkish consortium, and published for the first time today by BIRN, are also "two or three times" those offered by local firms.
Haziz Rysha, director of one of Kosovo's biggest road builders Eskavatori, pointed out that 125 mm diameter PVC ducts cost around four euro per metre in Kosovo – while Bechtel charged Pristina 29 euros per metre, more than seven times the local market price.
Another company director, who asked not to be named, added the only section of the highway built by local firms cost Pristina two million euros per kilometre, compared to the 11.4m euros per kilometre that Bechtel-Enka charged.
A spokeswoman for Bechtel said: "We leave it up to our customers to discuss the costs of their projects. However, it is important to note that both motorways used a design-build approach meaning that construction began before the designs were completed."
US ignored EU concerns
Pieter Feith, former head of Kosovo's International Civilian Office
Photo courtesy: European Parlament
International diplomat Pieter Feith, tasked by the EU and the US with supervising Kosovo after its 2008 declaration of independence, told BIRN the US embassy and its ambassador, Christopher Dell, stopped him "from doing my job".
Feith left Kosovo's International Civilian Office (ICO) as it shut in 2012. He says that during his time in office, "Dell told me in very clear terms that I should not poke my nose into the Bechtel contract – that was none of my business and this was a commercial matter between the United States and Kosovo".
Feith, who was also the EU's highest representative in Kosovo, was worried the contract with Bechtel would wreck the young country's fragile finances, and argued the money could be better spent on tackling Kosovo's 45 per cent unemployment rate.
"Information was withheld, and all of a sudden we were presented with a fait accompli of this contract being concluded and being a liability on the budget."
Dell declined to be interviewed but has previously defended the highway selection process, claiming it was one of the most transparent in Kosovo's history.
Pristina's own legal advisers, UK firm Eversheds, urged the government not to sign up, arguing the contract was heavily weighted in favour of Bechtel-Enka.
The Evershed document, now published in full by BIRN for the first time, warned that signing the contract would be "extremely dangerous".
The law firm identified numerous areas where the standard contract for major infrastructure projects – the Federation of Consulting Engineers' Red Book – had been amended "in a completely one-sided way".
It also argued that Bechtel had "simply ignored" the tender guidelines for a fixed price and suggested that the procurement process might have to be rerun. This advice was ignored.
Bechtel-Enka maintains its proposal did comply with government guidelines. The firm argues it saved the government hundreds of millions of euros by devising a new route for the road, avoiding costly tunnels. It added that the project would have "economic benefits [that] extend well beyond Kosovo".
Eversheds' advice was issued in January 2010 and while some changes were made before the final signing of the deal three months later, many of the controversial clauses were retained.
The Kosovo contract is now being investigated by prosecutors at the EU rule-of-law mission in Kosovo, EULEX. Sources close to the investigation say EULEX is scrutinising the government's decision to sign the highway deal.
While the target of the inquiry has not been disclosed, it is believed to be focused on whether or not the contract damaged Kosovo's economy. There is no evidence to suggest Bechtel, Enka or Dell are implicated in any of the current or past investigations.
Bechtel-Enka was also exempt from paying tens of millions of euros of Value Added Tax in both Albania and Kosovo.
Kosovo construction firm Eskavatori boss Rysha stressed that local firms are not afforded these tax breaks, which ensured Bechtel-Enka received a 113 million euro rebate in Kosovo alone. It is likely Bechtel-Enka received a similar figure in Albania.
Officials from the Prime Minister's office and Ministry of Infrastructure in Pristina refused to answer questions about the scheme and its impact on the economy.
At the road's opening ceremony in November 2013, President Atifete Jahjaga, described the road as "a national dream and is now a national reality". Prime Minister Hashim Thaci said it would cut journey times by up to three-quarters and contribute to "our future economic and social growth".
"The Highway Is Little Used"
As various institutions try to figure out how a 134 km stretch of motorway could end up costing so much, ordinary Kosovans and Albanians continue to suffer because funds were diverted to pay Bechtel-Enka.
While key players have bagged top jobs, and Bechtel-Enka have landed another huge infrastructure project – the 600 million euro Pristina to Skopje road – the highway has failed to deliver much in the way of economic benefits.
Despite the huge investment, trade between the two countries has not strengthened markedly.
According to Kosovo's Agency of Statistics, 10.3 per cent of all Kosovo exports went to Albania in 2005, while the figure in 2011 had increased to just 10.8.
Official figures show that exports from Albania to Kosovo in 2005 accounted for only 1.6 per cent of Kosovo's total imports. In 2011, the figure was 3.9 per cent.
"This road is working at just 10 per cent of its full capacity," said Kosovo construction tycoon and politician Behgjet Pacolli. "Something has to change in our economic cooperation to make that road serve the country's economy."
Even the man put in charge of managing the highway admits its take-up has been poor.
Lahudin Myrtaj, head of highway supervision within the Ministry of Infrastructure, said the new highway was the best in the Balkans, but that it would not be well used until it is connected to other regional routes.
"The highway is little used because it is mainly used by citizens going for summer vacations in Albania," he said.
"When the highway is connected with the region and goes up to Istanbul, then we plan to install tolls because it will be used more by the business community."
Until then, the road will remain in the eyes of many little more than a luxury Kosovo and Albania can ill afford.
This article was produced as part of a programme titled "A Paper Trail to Better Governance", with funding from the Austrian Development Cooperation (ADC) and implemented by BIRN. The content does not reflect views and opinions of ADC.
Januar 10, 2015
Kommentare aus
Identisch im Balkan, Ukraine, Afrika: man schmiert und besticht die ausl. Demokratie Bringer mit Prostitutierten, teilt die Beute der Entwicklungshilfe und Gesetze sind unerwünscht, oder eine Funktion des Staates
Published time: January 07, 2015 13:29
A US Navy official admitted on Tuesday to taking various bribes, including a prostitute and luxury travel, as well as sums reaching up to $120,000. He was involved in a massive scheme with a long-term Asian military contractor.
Jose Luis Sanchez, 42, is the highest-ranking official to plead guilty in the case that has investigated the links between a Singapore-based company and US officers, who provided it with confidential information in exchange for luxury travel, prostitutes and other bribes, AP reported on Tuesday.
His 24-page plea agreement lists bribes valued between $30,000 and $120,000 from 2009 to 2013, including a prostitute, $7,500 to travel from Asia to the United States and five days at Singapore's luxury Shangri-La Hotel. The Navy official is facing a maximum penalty of 20 years behind bars.
Sanchez admitted taking the money in exchange for classified Navy ship and submarine schedules and other internal information that he supplied to Leonard Glenn Francis, chief executive of Glenn Defense Marine, a company that managed port services for American ships in Southeast Asia.
READ MORE: Navy charges fourth official in worst corruption scandal in decades
Sanchez, who served in Japan and Singapore before he was reassigned to Florida in 2013, remains on active duty in San Diego, according to the Justice Department statement. His sentencing is set for March 27.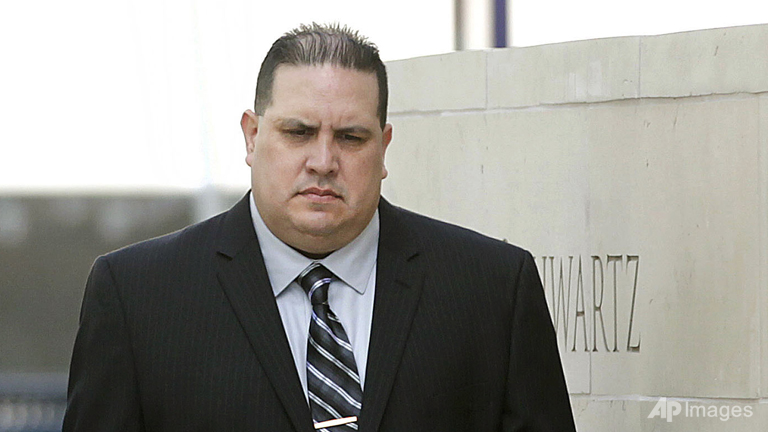 "Commander Sanchez sold out his command and country for cash bribes, luxury hotel rooms, and the services of prostitutes," Assistant Attorney General Leslie R. Caldwell said. "After today's guilty plea, instead of free stays at the Shangri-La hotel, Sanchez is facing many nights in federal prison."
READ MORE: Third high-ranked Navy official arrested in 'secrets for hookers' bribery scandal
The first charges in the case, which involves four US Navy officers – Sanchez, Misiewicz, Beliveau and Wisidagama, – were filed in 2013.
Francis, known as "Fat Leonard," was arrested in September 2013 and has pleaded not guilty. His company has serviced Navy ships for 25 years, and since 2009 it has allegedly overbilled the US Navy by at least $20 million.
"We continue to unearth the full scope of this pernicious fraud and bribery scheme, and we will pursue the evidence, wherever it leads us," said US attorney for the Southern District of California, Laura Duffy.