China Marine Stützpunkte von "Vanuatu", Pakistan bis Dujibouti
Der US Marine Schrott, ist heute auf allen Gebieten den Russischen und Chinesischen Marine Einheiten unterlegen, mit Ausnahme bei Flugzeug Trägern. Und diese Schrott Eimer kann man leicht versenken. Luganville, war im 2 WK eines der wichtigsten US Marine Stützpunkte mit Tiefwasser Hafen, wo die Amerikaner ihren MIlitär Schrott im Meer versenkten. Neben Pearl Harbour der wichtigste Hafen der Amerikaner im 2 WK
Viel Lärm um nichts? USA schicken unfähige Flotte nach Nordkorea – Bloomberg
Peinlichkeiten aus der Waffenkammer des Guten
Zurück ins Jahr 2018. Unsere Drohnen fliegen nicht, unsere Hubschrauberpiloten üben beim ADAC, weil sie kein einsatzfähiges Fluggerät haben, der "Jäger90" wurde mit zehn Jahren Verspätung ein überfrachteter Eurofighter, unsere U-Boote sind sämtlich kaputt, und von der A400M, dem neuen Transportflugzeug, redet schon gleich niemand mehr, weil es einfach nur noch peinlich ist. Nun kommt ein weiteres Fiasko hinzu, über welches das "Wallstreet Journal" am 12. Januar 2018 berichtet: Die neuen Fregatten vom Typ F-125, welche unsere Marine bestellt hat, sind Schrott. Abnahme verweigert. Die Diagnose, die man in den USA den deutschen Verbündeten stellt, ist niederschmetternd. Ich kann zwar nicht behaupten, ein ausgewiesener Experte auf dem Gebiet militärischer Ausrüstung zu sein, aber selbst einem Laien stellen sich beim Anblick der Fähigkeiten der neuen Schiffe einige Fragen.
"Nach Dujibouti, errichten die Chinesen eine zweite grosse Marine Basis in Pakistan"
Nach Dujibouti, errichten die Chinesen eine zweite grosse Marine Basis in Pakistan
Die Gesamte US Flotte, ist Militär Schrott, ein technisches Desaster seit langem, uralter Elektronischer Schrott wo Nichts mehr funktioniert. PR Betrugs Verkäufe, Entwicklungen wie der Tarnkappen Bomben F-35, eine reine PR Verkaufs Maschine, ein sinnloser technischer Schrott, korrupter Politiker und Militärs.
China wirft die US Schrott Firmen wie IBM Spionage Server: Boston Consulting und McKinsey raus
Vanuatu, Insel Staat
Military base rumors stoke Western allies' fear of losing the Pacific to China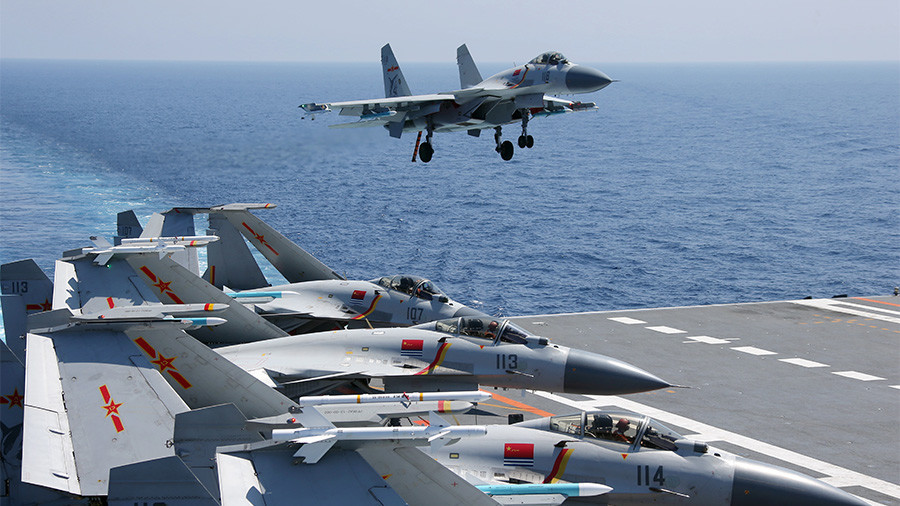 In early April, reports began emerging that China was seeking to build a military base in the Pacific. Are these reports "fake news," or are we witnessing the early stages of a regional showdown between Western powers and China?
The unsubstantiated rumor of a Chinese military base in the Pacific was first reported on by Fairfax media this month, which cited unnamed sources while affirming that no formal proposal had yet been made. However, the report stated that the prospect of a Chinese military post close to Australia had been discussed at the "highest levels in Canberra and Washington."
According to the report, a "base less than 2000 kilometres from the Australian coast would allow China to project military power into the Pacific Ocean and upend the long-standing strategic balance in the region, potentially increasing the risk of confrontation between China and the United States."
The prospective Pacific island nation in question is Vanuatu, a country with a noticeably close relationship with China. While the Western powers, especially Australia, have become increasingly concerned by China's growing military capacity in the South China Sea through its reclaimed reefs and artificial islands, Vanuatu has been one of the very few countries who have openly supported Beijing's island-building program. China has also donated military vehicles to Vanuatu, invested millions of dollars in infrastructure, and reportedly accounts for nearly half of Vanuatu's $440 million foreign debt.
The Allies' Response
As one can imagine, the report of a looming Chinese military base was not welcomed at all by US allies in the region, particularly New Zealand and Australia.
Australian Prime Minister Malcolm Turnbull said at the time that he viewed "with great concern the establishment of any foreign military bases in those Pacific Island countries and neighbours of ours."
"The maintenance of peace and stability in the Pacific is of utmost importance to us, to Australia — it's one of the key priorities of the foreign policy white paper," the prime minister also reportedly said.
In other words, Australia may seek to use this threat to justify a renewed militaristic foreign policy strategy of its own. After all, Australia has been sending warships to the South China Sea for military exercises even as recently as last year, and even felt it necessary to openly consider sending more vessels to confront China's expanding influence just a few months ago. Australia also facilitated the proposal for a British warship, the HMS Sutherland, to depart Australia and voyage to the South China Sea to assert its so-called "freedom of navigation rights." The US, for its part, sent warships to the South China Sea just this past month, as well as in January of this year, saber-rattling China in the process. Not to mention that Trump's nominee for the US ambassador to Australia is a known anti-Chinese war hawk.
In solidarity with Australia, New Zealand's prime minister, Jacinda Ardern, also voiced her opposition to what she termed the "militarization" of the Pacific, even though she hadn't even been formally briefed on the issue at the time.
According to a prominent New Zealand outlet, the country's government was seeking further information on the report and considering ways to respond. Deputy Prime Minister Winston Peters, a notorious anti-Chinese politician who just about rattles Chinese people any chance he gets, also said there are a "number of players doing certain things in the Pacific that are not good for the peace and security" of the Pacific. He also believed that it was time for New Zealand to "step up" and "do a whole lot more in the Pacific."
In March of this year, Peters spoke about the Pacific becoming a "contested strategic space" which was "creating a degree of strategic anxiety." He also vowed to pour more money and resources in the Pacific region, further indicating that New Zealand would back away from supporting China's monumental Silk Road project even after New Zealand's former government had already signed a memorandum of understanding in support of the project.
All this being said, both Vanuatu and China have already heavily denied the veracity of the report, rejecting the claim that China will be building a military base in Vanuatu.
"No one in the Vanuatu government has ever talked about a Chinese military base in Vanuatu of any sort," Vanuatu's foreign minister, Ralph Regenvanu, told Australian media. "We are a non-aligned country. We are not interested in militarisation."..
https://www.rt.com/op-ed/424685-china-australia-military-pacific/