Startseite
>
Geo Politik
> Der korrupte Gangster Benjamin Netanyahu, verbreitet neue Fake News über den Iran
Der korrupte Gangster Benjamin Netanyahu, verbreitet neue Fake News über den Iran
Seit über 25 Jahren werden Fake News verbreitet über die Iranische Atom Bombe. Netanyahu
verbreitet im NATO und Berliner STtile.
Benjamin Netanyahu, die Korruptions Geschäfte mit ThyssenKrupp mit David Shimron und den U-Booten, Co2 Betrugs Zertifikaten mit
Netanjahu setzt zur Eskalation auf Bilder: "Iran lügt"
Der Iran habe sein geheimes Atomwaffenprogramm fortgesetzt, Trump stimmt der israelischen Präsentation zu, Knesset verabschiedet Gesetz, nach dem der Reierungschef und er Verteidigungsminister einen Krieg erklären können
Mit seinem dramatischen "Multimedia"-Auftritt hat der israelische Regierungschef gestern angeblich US-Präsident Donald Trump in seiner Haltung gegen den Iran und das Iranabkommen (JCPOA) bestärkt. Mit der angeblichen Vorlage von "Beweisen" sagt Netanjahu, dass der Iran trotz des Abkommens weiter ein geheimes Atomwaffenprogramm verfolgt und er in wenigen Jahren nach Ende des Abkommen unbegrenzt Uran anreichern könne. Die israelischen Geheimdienste hätten 55.000 Dokumente und 183 CDs aus dem iranischen "Nuklear-Archiv" aufgespürt, die das belegen. Sie belegen allerdings höchstens, dass der Iran vor dem Abkommen ein Atomwaffenprogramm verfolgte, nicht aber, dass dies weiterhin der Fall ist. Man erhält angesichts des Auftritts den Eindruck, dass hier ähnlich wie vor dem Irak-Krieg mit vermeintlichen Beweisen agiert wird.
Netanyahu announces more fake news on Iran
Monday, 30 April 2018
Update 2: Commeting on Netanyahu's speech, Iranian foreign minister Mohammad Javad Zarif says allegations made by the Israel prime minister are lies aiming to deceive people and some governments, state-run FARS reports.
"The speech of Netanyahu and some American circles behind him are mere false claims that don't matter"
Meanwhile, Abbas Araghchi, Iran's deputy foreign minister, said Israeli presentation accusing Iran of hiding a secret nuclear arms project shows how far it is willing to go to end the nuclear deal: "We are prepared for all scenarios. But this really shows how much theAmericans, the Zionist regime and the Saudis are worried about the opportunities that the nuclear deal provides Iran and the lengths they'll go to stop it," he said in comments aired on state TV.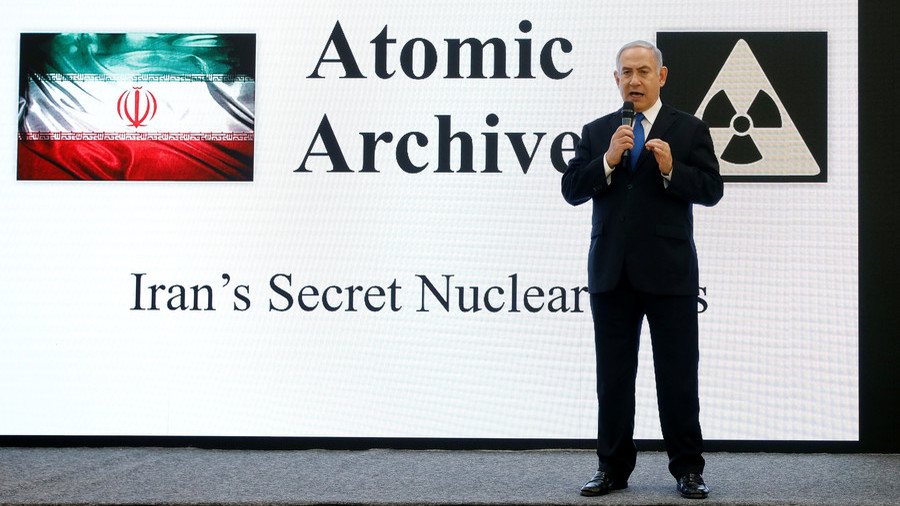 Araghchi called the presentation "laughable" and says Israel has used an "old, worn-out scenario."
* * *
Update: shortly after Netanyahu's speech, Trump addressed reporters at the White House with the following comments on the Iran revelations and nuclear deal, from Bloomberg:
*TRUMP SAYS HE SAW PARTS OF NETANYAHU'S SPEECH ON IRAN
*TRUMP DECLINES TO SAY WHAT HE'LL DO ON IRAN NUCLEAR DEAL
*TRUMP LEAVES OPEN POSSIBILITY OF NEGOTIATING NEW IRAN DEAL
*TRUMP SAYS HE HAS BEEN `100% RIGHT' ON IRAN SO FAR
In other words, no decision just yet.
* * *
Oil is soaring to $69.34/bbl, the highest price since 2014, after Israeli Prime Minister Benjamin Netanyahu accused Iran of secretly developing and building nuclear weapons.
In a global televised address, Netanyahu  unveiled a cache of 55,000 pages of documents and 183 CDs, comprising Iran's alleged "atomic archive" of documents on its nuclear program; the files allegedly prove Tehran ran a secret program, called Project Amad, to "test and build nuclear weapons."
While Iranian leaders have long said their nuclear program is only for peaceful purposes, Netanyahu claimed this was not the case according to tens of thousands of pages of documents, which he said were copied from a "highly secret location" in Iran.
Those files detail Project Amad, which Netanyahu described as "a comprehensive program to design, build and test nuclear weapons."
"These files conclusively prove that Iran is brazenly lying when it says it never had a nuclear weapons program," Netanyahu said. "The files prove that."
He says the US has vouched for the authenticity of the secret archive obtained by Israel, and that it would make the documents available to the UN atomic agency and other countries.