Archive for Juni 15, 2021
---
Vollkommen dumm, erhielt Posten bei der EU und ist in Tirana, für ihre Esotherischens Betrugsleben
Genoveva Ruiz Calavera der IOM, schwafelt nur noch herum, weil die Justiz Null Funktion hat! Studium von Philologie
By Kassandra
Legendary EU insider, uncovering the deepest and darkest realities of EU governance and administration
---
President of the Venice Commission Gianni Buquicchio (C) during a February 2020 visit to Chisinau, Moldova. EPA-EFE//DUMITRU DORU
---
Facebook Twitter Linkedin Email Print
The Venice Commission, an eminent jurists body of the Council of Europe, has been dealing since last year with a lot of cases from Albania; enough to earn from EU diplomats the humorous nickname "The Tirana Commission". Chief among them is Luigi Soreca, head of the EU Delegation in Tirana, who has recently been campaigning in an undiplomatic fashion for the authorities to make two appointments, by no later than St. Sylvester's Day on December 31, to the country's Constitutional Court.
There is currently a three-year suspension of both the Constitutional and High Courts due to an ill-conceived and poorly implemented justice reform program in the country. This has created a power vacuum that s eagerly being filled by a power-hungry prime minister who is facing allegations of authoritarianism, corruption and criminal collusion. That lack of the third state power is one reason for the increased political polarization as many sensitive cases await their adjudication.
This in turn explains why so many Albanian cases are sent to the Venice Commission. The joking diplomats might be reminded that the EU played an over proportional role in Albania's justice reform and that they bear some responsibility for the new dubbing of the Venice Commission. We would like to believe that this moral sense explains Soreca's weekly calls for judicial appointments. Our sources in Brussels, and in the delegation, tell us about an effort to fulfill a chief condition for starting EU membership talks. Even if the appointments happen in the next weeks, most experts claim the Constitutional Court still won't be functional, but this is for another article.
Last week, the Venice Commission adopted its opinion on the recent Albanian constitutional changes that are affecting the electoral system. It was a damning denunciation of Edi Rama's abuse of the situation in order to boost his chances in the April 25 general elections.
What has not been told to the public is that the idea of referring the issue to the Venice Commission came from the top of the European Commission. Oliver Varhelyi, the Enlargement Commissioner, visited Tirana on October 7 and met President Ilir Meta along with government and opposition officials. Our sources tell us he suggested Venice as a way out of the impasse created by Rama's arbitrary constitutional changes. Meta wrote to Venice on October 21, but until now, there hasn't been much to be noted except for a Commissioner applying diplomacy and fairness when trying to help cut a political knot in a Western Balkans country.
This is, of course, a welcome development considering his pro-Rama partisan predecessors. What alerted Kassandra however was information that a Commission official named Genoveva Ruiz Calavera, who serves under Várhelyi as director for the Western Balkans, phoned the Venice Commission. She asked for Meta's request to be rejected. Her view was that should the Commission recommend legislative changes and the Albanian Parliament abide and act upon them. This would imperil the April elections and the mirrored perfectly Rama's public argument.
Kassandra would like to believe President Meta and Commissioner Varhelyi view that reverting to the annulled electoral formula would not disrupt the April elections. It requires a simple legislative piece whose effect will occur only after the vote count. However, without a deep analysis we wouldn't take a firm stand on this issue.
Varhelyi publicly clashed with Rama on two separate occasions as he appealed to the latter not to enact the legislation before the Venice Commission opinion had been released. Many other EU politicians joined this appeal, which Rama chose to ignore. We wrote about this exact matter six weeks ago and pointed out the estrangement between Rama and the relevant institutional EU levels.
We all know from years of previous experience that Commission officials who ignore the views of their political masters in the College of Commissioners are monnaie courante in Brussels. We find is astonishing, however, that Calavera pursued her personal operations with the Venice Commission amdist the backdrop of this conflict. This seems to amount to an unusual act of sabotage or even a quasi overt insubordination as she must have known that "Venetians" would talk.
We might want to speculate about her reasons, but we wouldn't quickly jump to conclusions. New Europe was the first and the sole main European newspaper that exposed the corruption of Romana Vlahutin, the predecessor of Soreca in Tirana. Some nice money on the side would have emboldened her pro-Rama actions, but she was openly biased from the beginning of her work in the Delegation and she was also tolerated by her headquarters.
Calavera's public statements, including those to the European Parliament, also smell of pure "Ramaism". She leads the international monitoring of the vetting process, which is the main feature of the Albanian justice reform that has come under increased criticism. Perhaps the reasons are to be found there. We still don't know, but we wouldn't exclude plausible possibility in our future inquiries.
Sticking to the known facts we consider this a credibility issue for the European Commission. Commissioner Várhelyi promised at his investiture to restore trust in the enlargment process. If he fails to restore control in the department he is responsible for than it would be very difficult for him to fulfill his initial promise.
Kassandra
December 2020
Die Venedig-Kommission, ein renommiertes Juristengremium des Europarats, befasst sich seit letztem Jahr mit vielen Fällen aus Albanien; genug, um sich von EU-Diplomaten den humorvollen Spitznamen "The Tirana Commission" zu verdienen. Der Chef unter ihnen ist Luigi Soreca, Leiter der EU-Delegation in Tirana, der sich zuletzt undiplomatisch dafür eingesetzt hat, dass die Behörden bis spätestens zum Silvestertag am 31. Dezember zwei Ernennungen beim Verfassungsgericht des Landes vornehmen.
Das ist natürlich angesichts seiner pro-Rama-Partisanen-Vorgänger eine willkommene Entwicklung. Was Kassandra jedoch alarmierte, war die Information, dass eine Beamtin der Kommission namens Genoveva Ruiz Calavera, die unter Várhelyi als Direktorin für den Westbalkan dient, die Venedig-Kommission anrief. Sie bat darum, Metas Antrag abzulehnen. Ihrer Ansicht nach sollte die Kommission Gesetzesänderungen empfehlen und das albanische Parlament sollte sich daran halten und entsprechend handeln. Dies würde die Wahlen im April gefährden und die öffentliche Argumentation von Rama spiegelte perfekt wider.
Dumm und korrupt, hat Deutschland und Europa übernommen
Reise Tourismus und gut geschmiert von Angela Merkel
Gender Ga, GA Frauen Treffen in Tirana mit: Susanne Schütz, Genoveva Ruiz Calavera und der Kroatischen Georg Soros Mäträsse: Romana Vlahutin (Rechts)
Klaus Schwab, Gangster Treffen: WEF
Carlos Ghosn KBE (arabisch كارلوس غصن, DMGKārlūs Ġuṣn, * 9. März1954 in Porto Velho, Brasilien) ist ein Manager mit brasilianischer, libanesischer und französischer Staatsbürgerschaft.[1] Ghosn war bis zum 23. Januar 2019 Chief Executive Officer von Renault-Nissan-Mitsubishi[2] und Vorsitzender des Verwaltungsrats von Renault.[3] Die japanischen Strafbehörden setzten ihn im November 2018 fest und klagten ihn u. a. der Untreue an. Nachdem er gegen Kaution aus Untersuchungshaft entlassen worden war, entzog er sich Ende Dezember 2019 dem Zugriff der japanischen Justiz durch Flucht in den Libanon.
Spektakuläre Flucht aus Japan Helfer von Topmanager Ghosn gestehen
Stand: 14.06.2021 16:13 Uhr
Sie sollen dabei geholfen haben, den ehemaligen Automanager Ghosn in einem Koffer aus Japan in den Libanon zu schmuggeln: Zwei Komplizen haben die Fluchthilfe gestanden. Den US-Bürgern drohen drei Jahre Haft.
Eigentlich sollte sich der ehemalige Renault-Chef Carlos Ghosn in Tokio einem Gerichtsverfahren wegen des Vorwurfs schwerer Veruntreuung von Geldern stellen, stattdessen gelang ihm eine einigermaßen spektakuläre Flucht an Bord eines Privatjets – in einem Musikkoffer. Dabei hatte er Komplizen: Zwei US-Amerikaner, Vater und Sohn, haben ihre Fluchthilfe jetzt gestanden.
Sie räumten zum Prozessbeginn in Tokio die Vorwürfe der Staatsanwaltschaft ein: Demnach haben der 60-jährige Michael T. und sein 28-jähriger Sohn Peter zuerst den Fluchtplan erstellt und schließlich die Flucht ermöglicht. Ein dritter mutmaßlicher Helfer aus dem Libanon ist weiter flüchtig.
"Vielleicht ist da eine junge Frau drin"
Bei Michael T. handelt es sich um einen früheren Elitesoldaten der US-Armee, der im Bereich der privaten Sicherheitsdienstleistungen tätig ist. Er soll nach Angaben der US-Staatsanwaltschaft mehrfach nach Japan gereist sein und sich dort mindestens sieben Mal mit Ghosn getroffen haben. Sein Sohn Peter soll japanischen Medien zufolge 144 Millionen Yen – das entspricht knapp 1,1 Millionen Euro – von der Ghosn-Familie für die Hilfe erhalten haben.
Das meiste Geld verwendeten die Angeklagten demnach für die Vorbereitungen der Flucht, darunter für den Privatjet. Sie bestritten, konkret für ihre Hilfe bezahlt worden zu sein. Das Gericht führte erneut die Details der Flucht aus – wie Ghosn in dem für Musikausrüstung gedachten Koffer versteckt wurde, in den Löcher gebohrt worden waren, damit der Ex-Manager Luft bekommt. Wie die drei Fluchthelfer sich als Musiker ausgaben und damit die Gepäckkontrolle am Flughafen überlisteten. Und wie ein Mitarbeiter des Flughafenpersonals beim Gewicht des Koffers noch scherzte: "Vielleicht ist da eine junge Frau drin."
Weitere Fluchthelfer sind bereits verurteilt
Ende Februar hatte bereits ein Gericht in Istanbul drei türkische Staatsbürger wegen Verschwörung zum Schmuggel eines Migranten zu mehreren Jahren Haft verurteilt. Unter ihnen waren auch die beiden Piloten, die die Maschine mit Ghosn an Bord zunächst von Tokio nach Istanbul geflogen haben sollen, von wo aus er seine Flucht in den Libanon fortsetz
https://www.tagesschau.de/ausland/asien/ghosn-fluchthilfe-prozess-101.html
Former US special forces operative and son admit helping ex-Nissan chief Carlos Ghosn to escape to Lebanon
14 Jun, 2021 10:42 Get short URL
This undated combination of photos courtesy Rudy Michael Taylor shows his father, former US special forces member Michael Taylor and his brother Peter, posing together years apart. © AFP / FAMILY HANDOUT.
Follow RT on Ex-special forces veteran Michael Taylor and his son Peter have admitted aiding the escape of the bailed former Nissan boss Carlos Ghosn from Japan so he would avoid prosecution for financial misconduct.
The two men made their implicit confession during their first hearing after their extradition to Tokyo. They face charges for helping Ghosn skip bail and flee to Lebanon, his childhood home. If found guilty, they are looking at a sentence of up to three years in jail.
The duo, handcuffed and wearing Covid-19 masks, sat silently in the courtroom while prosecutors outlined their case. When asked by the judge, "Is there any mistake in what the prosecutor just read?" the pair said no.
Michael Taylor, 60, and his 28-year-old son Peter are accused of helping to hide Ghosn in a box designed to hold music equipment, sneaking him through security in Osaka and putting him on a private plane to Turkey, from whence he fled to Lebanon in 2019.
Former US special forces operative and son admit helping ex-Nissan chief Carlos Ghosn to escape to Lebanon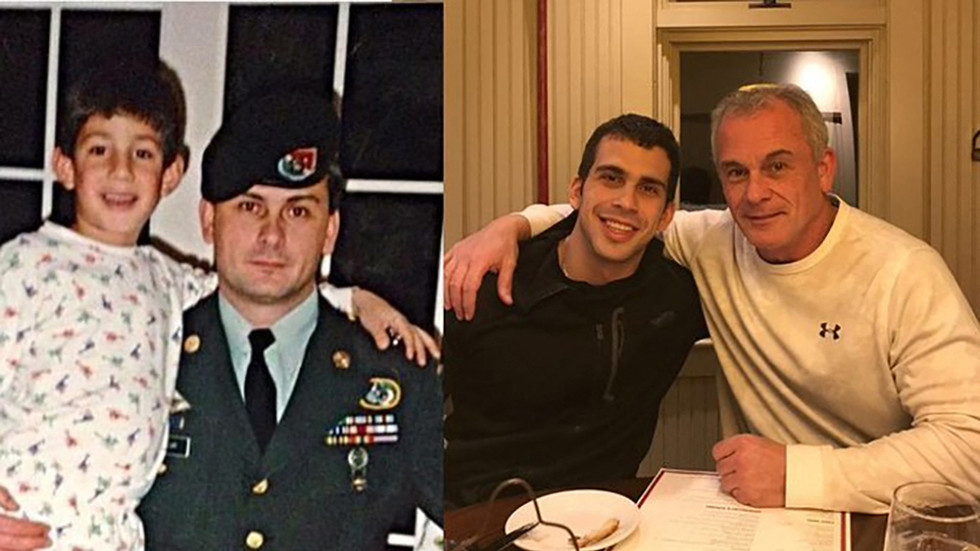 Ex-special forces veteran Michael Taylor and his son Peter have admitted aiding the escape of the bailed former Nissan boss Carlos Ghosn from Japan so he would avoid prosecution for financial misconduct. 14 June 2021 | 10:42 GMT GMT