A French millionaire of Polish origin has been arrested in Spain on suspicion of being behind an arms deal that fueled war in South Sudan. Pierre Konrad Dadak, 40, was apprehended in his luxury villa in Ibiza as special security forces raided his mansion following a four-year-long investigation.

Dadak was caught attempting to escape from a window after hiding in a panic room for several minutes, as his bodyguards clashed with security forces.

The magnate is accused of having posed as a diplomat to smuggle weapons in South Sudan, which descended into civil war in 2013.

Dadak, a former army officer, is believed to have masterminded a gang that sold more than 200,000 AK-47s, missile launchers and tanks to clients in the war-torn African nation, El Espanol website reported.

Claiming to be a diplomat from Guinea Bissau, Dadak erected a plaque outside his property on the party island that said he had diplomatic immunity. It is also understood that he used the Gambian presidential plane to send military weapons to the embattled South Sudan.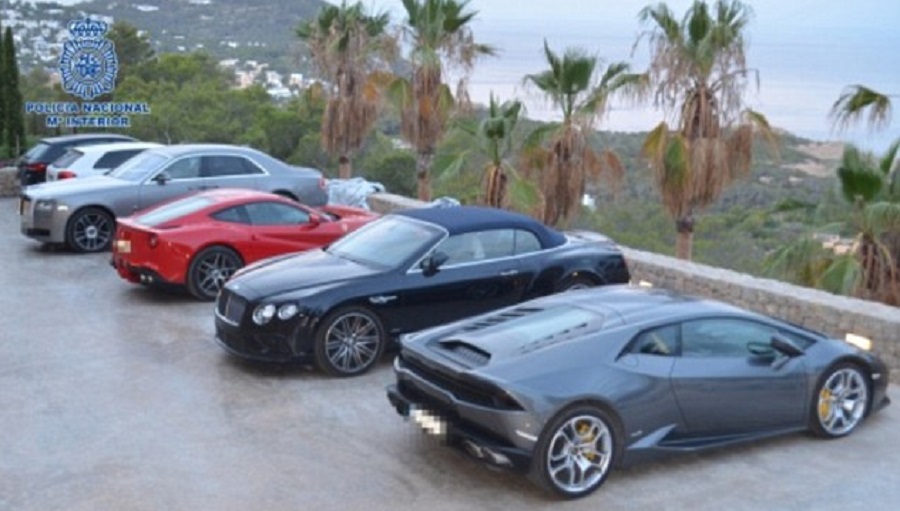 The raid at the mansion resulted in the arrest of nine people, including Ukrainian model Kateryna Dirgina, Dadak's ex-girlfriend, accused of money laundering.
A spokesman for the Spanish police unit that made the arrest said: "The billionaire ring leader was using an international network of companies and contacts to extort and receive payments for alleged arms trafficking, even using the presidential plane in Gambia to sell weapons to this country."
The billionaire is said to have links with bogus companies across Europe and Africa for money laundering and tax evasion purposes, including in the UK, Belgium and France. He also used a violent criminal ring based in Holland to collect huge debts.
http://www.ibtimes.co.uk/who-pierre-konrad-dadak-jet-setting-arms-dealer-accused-fuelling-south-sudan-war-1572584
Billionaire suspected of fuelling civil war with Night Manager-style arms dealing 'threatened to put enemies in a glass jar'
In case seeming to echo the fictional plot of The Night Manager, Pierre Dadak was arrested on suspicion of masterminding the supply of AK-47s, missile launchers and tanks to groups in South Sudan from the comfort of his Mediterranean mansion
A billionaire suspected of helping fuel an African civil war by masterminding illegal shipments of AK-47s, missile launchers and tanks from the comfort of his Ibiza mansion would threaten anyone who crossed him with the words, "I will put you in a glass jar", it has been claimed.
Pierre Konrad Dadak reportedly spent hundreds of thousands of euros turning his Ibiza mansion, with a fleet of supercars in the garage, into a fortress.  But when it came for paying for a 12,000-euro (£10,000) specially reinforced glass shower door, Mr Dadak is said to have refused to pay the labour costs.
The Spanish news site El Español reported that the builder decided not being paid was preferable to ending up inside a glass jar.
The news site also reported that police suspect that Mr Dadak has been involved in numerous arms shipments to factions in South Sudan, where 10,000 civilians have so far been killed in a civil war that began in 2013. Investigators reportedly found an email in which Dadak offered to smuggle 200,000 Kalashnikovs, as well as rocket launchers and tanks, into the troubled East African country.
Mr Dadak is now in custody, suspected of arms trafficking, and Europol has issued a statement declaring: "Several members of the crime network were arrested. They are suspected of offences related to organised property crime, extortion, money-laundering, fraud, bribery and disclosure of official secrets."
In a case that seems to echo the fictional plot of the recent mini-series The Night Manager, in which Tom Hiddleston's character infiltrates an arms-trafficking ring run from a mansion on the Spanish island of Majorca by Hugh Laurie's Richard Onslow, Mr Dadak was arrested in a dawn raid on 14 July.
After armed Spanish police subdued his bodyguards, Mr Dadak reportedly spent 30 minutes holed up in the mansion's panic room before being captured as he tried to escape through a window.
Among those reportedly arrested with him was his ex-partner Kateryna Dirgina, a Ukrainian model.
The arrests, which coincided with simultaneous searches of companies in Germany and Switzerland, are thought to have been the culmination of a four-year international investigation.
Mr Dadak, a former Polish army officer, is said to have arrived in Ibiza – a party island renowned for its nightclubs and visited by 700,000 Britons every year – in 2011.